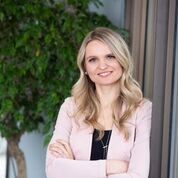 Natallia Kohut – Owner & Executive Director
Natallia is originally from Eastern Europe where she attended elementary and middle school dreaming of becoming an educator one day. She graduated high school in the United States and went on to receive Bachelor's degree in Special Education. Having taught at both public and private schools for a few years, she has gained a broad perspective on schooling and through research and experience, have found effective ways to work with students who need help the most – those with learning disabilities, attention difficulties, autism and other challenges.
Realizing the critical part executive functioning plays in the overall success of a student, she decided to focus entirely on coaching students and families to help them navigate academic challenges. With a growing need for highly specialized and individualized programs that would enrich and challenge a student both academically and emotionally, becoming an owner of A Way to Learn was an easy decision.
Natallia is a dedicated and results-driven educational professional. In addition to working with students, she strives to meet the growing need in our community for educational support services that reach a diverse population of learners. She works directly with schools to consult on the development of tailored curriculum and strategies to promote student achievement. Natallia presented at local schools teaching and inspiring other educators to improve educational outcomes, assisting students to reach their academic potential and improve skills and confidence in a diverse set of learners from remedial to gifted.
Samantha P. – Learning and Reading Specialist
Samantha has been an executive function coach and learning specialist at A Way to Learn for 8 years now. She is also a teacher at St. Francis Xavier School in Bronx, NY. Samantha holds a Bachelors degree from Iona College in Speech Language Pathology and Masters degree from Manhattanville College in Childhood and Special Education grades 1-6. She has also taken post-grad courses towards her certification in Literacy. Samantha specializes in working with elementary aged children on reading and writing skills, specifically focusing on phonemic awareness, decoding, fluency, sentence structure, and working memory.  Samantha's love of reading and teaching is evident in the work she does with each child she works with. She prides herself on fostering positive relationships with her students to help them reach their full potential.  Outside of work, she enjoys reading, cooking, and spending time with her family. 
Kimberly P. – Learning and Writing Specialist/Executive Functioning Coach

Kim is a former high school English teacher, holding a Bachelor and Master of Arts from UConn. She has a love of life-long learning, and is currently working to earn her degree in School Counseling. She has worked for AWTL for over a year with students of many backgrounds and abilities. Her focus is in Executive Functioning and English reading and writing, but she has been able to help in numerous academic subject areas, as well, including History and Spanish. Kim's favorite part of tutoring is the one-on-one work with her students and she easily establishes a strong rapport with all students. She loves teaching, but finds tutoring so much more rewarding, as she can see the positive results directly in each of the students she works with. Personally, Kim is very organized and detail-oriented. She enjoys helping others organize their academic and professional lives. Outside of work, she loves spending time with her husband and two young boys.
Katerina B. – Senior Executive Functioning Coach

Kat has been an executive function coach and a learning specialist at A Way to Learn for several years now. She specializes in helping students navigate transitions to and from high school, has been instrumental in building our standardized test prep and college readiness program, and often assists struggling learners with science and history. Her focus is on fostering a positive relationship with the student, while teaching organization and time management skills along with direct content instruction. While working for A Way to Learn, Kat also taught at a small therapeutic day school delivering instruction to a small group of students as well as 1:1. She taught a variety of courses, including Anthropology, Art History, and Earth Science. Kat is also a trained archaeologist with a masters degree from Yale University, and loves traveling the world to participate in excavations.